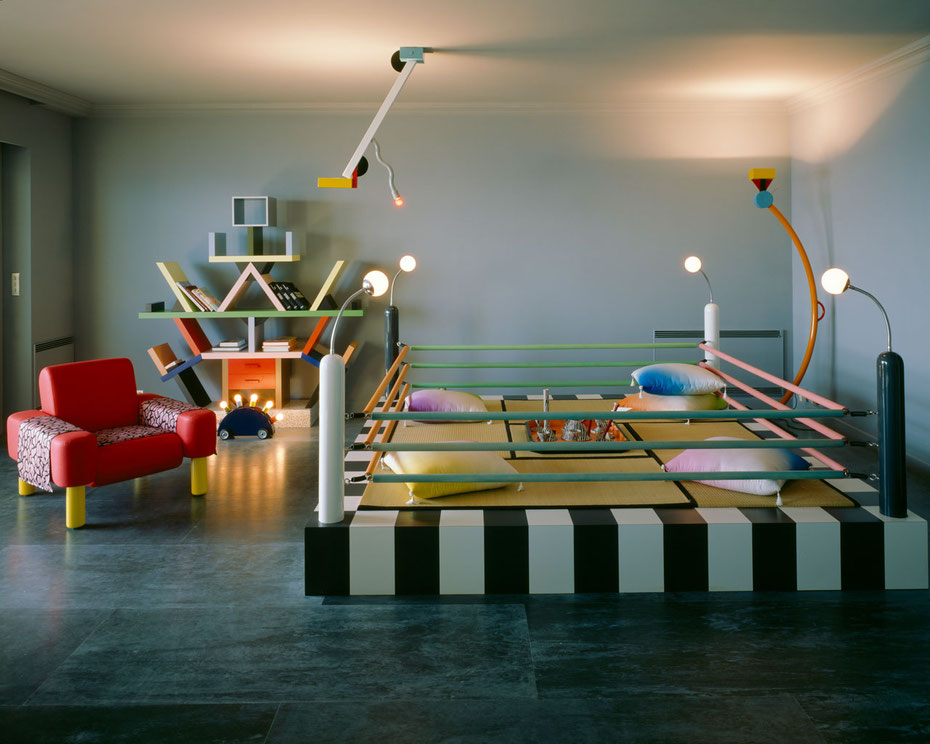 George James Sowden, "Oberoi" Chair. Masanori Umeda, "Tawaraya" Party Ring.
Martine Bedin, "Super" Lamp. Photo © Jacques Schumacher
---
How key moments of design history collided in 1983; Karl Lagerfeld and his Memphis design apartment...
James Davidson - 20 October, 2015
---
Wooed by Ettore Sottsass's Memphis design movement, burgeoning fashion icon Karl Lagerfeld built a shrine to its style in the early 1980s, young magazine editor Regina Spelman — and her photographer husband Jacques Schumacher — caught its audacious spirit for a short-lived German magazine. This is the story of key cultural moments colliding…
1983. The internet is officially born, the first mobile phone call made. True, neither would have great impact for a good 15 years — but they set a tone: there was plenty concerning the fourth year of the '80s that would have long-lasting resonance.
Michael Jackson debuted his moonwalk, MTV aired Thriller for the first time. The third of the original Star Wars movies, Return of the Jedi, was released and Alex Ferguson's Aberdeen beat Real Madrid to win the European Cup Winners' Cup — he did alright, didn't he? The final episode of M*A*S*H aired, the first of Fraggle Rock. The DeLorean Motor Company shut its doors, Amy Winehouse was born. Kiss appeared without makeup for the first time, Karl Lagerfeld's debut collection as chief designer at Chanel was shown in Paris. 1983. Some year. [Cont.]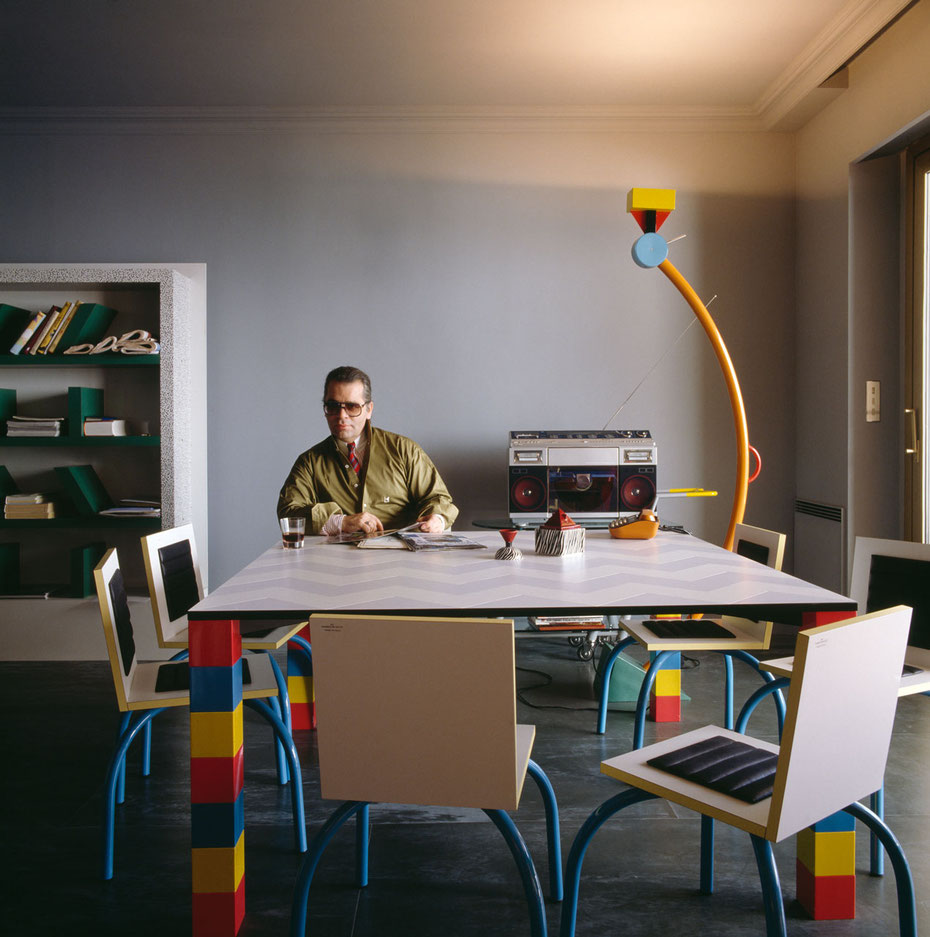 Ettore Sottsass, "Suvretta" Bookcase. George James Sowden, "Unknown" Table. Michele De Lucchi, "Riviera" Chairs.
Ettore Sottsass, "Treetops" Floor Lamp. Photo © Jacques Schumacher
Fraggle Rock might not have had the same cultural legacy as Thriller, and Kiss should've probably stuck with the face-paint, but Lagerfeld's is a reign that has lasted even longer than Ferguson's famous stint at Manchester United; some may argue with considerable more success. 49 at the time, The Kaiser was already a designer of some repute — but, in transforming Chanel's fortunes, leading them to $5 billion in sales each year, the German has confirmed his position as one of fashion's all-time greats. Still going strong, still innovating, Karl Otto Lagerfeld is the sort of figure for whom the title icon should be exclusively reserved. There are few who can rival his cultural legacy.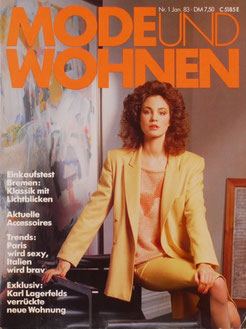 As a young editor at a little known German fashion magazine, Regina Spelman may not have been able to foresee the heights Lagerfeld would achieve when she interviewed him at his Monaco penthouse in 1983 — but she could see something special: "he was extremely friendly and uncomplicated. In 40 years as a journalist, I've never met a person in the fashion and beauty industry so intelligent, and so relaxed, as Lagerfeld. He didn't appear to be very ambitious, he just loved to work (Karl got up before five o'clock every morning), to draw, to read books, and have a good time." Lagerfeld quoted his mother when Spelman probed him on his future; "remember, it always becomes better than you think." Doesn't it just?
"Mode und Wohnen (Fashion and Living) started in Hamburg, 1979, lasting until 1984," Regina tells me. "I knew Karl Lagerfeld personally, I'd met him earlier in Paris, when he worked for Chloé. When I asked him for a story on the new look for his Monaco apartment he agreed right away." Embedded, as always, firmly in the cultural zeitgeist, Lagerfeld had embraced Ettore Sottsass's Memphis movement — the tongue-in-cheek riot of colour, disjointed lines and feral ideology of the early 1980s that has enjoyed a resurgence in recent years. Along with friend Andrée Putman, Karl had assembled an elaborate collection of key pieces and prototypes from the Milan-based postmodernist design group — and Spelman would document this salient collection.
"My husband Jacques Schumacher, his assistant (Uwe Düttmann — now a renowned photographer in his own right) and myself stayed for three days in Monte Carlo. Karl invited us to great restaurants, paying for everything as he knew that the magazine had very little money" Spelman continues. "We also met his boyfriend Jacques de Bascher in Monte Carlo, who looked fabulous in his stylish foreign legion outfit with a beret. In the apartment we saw a exquisite drawing of Jacques done by David Hockney." [Cont.]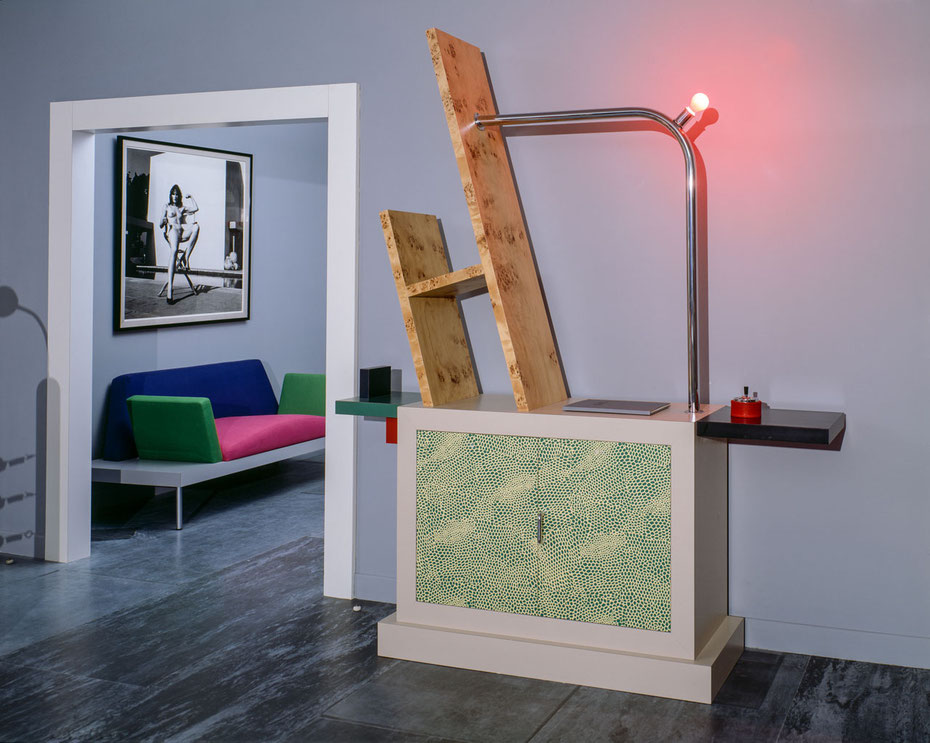 Marco Zanini, "Dublin" Sofa. Helmut Newton Photograph. Ettore Sottsass, "Beverly" Cabinet. Photo © Jacques Schumacher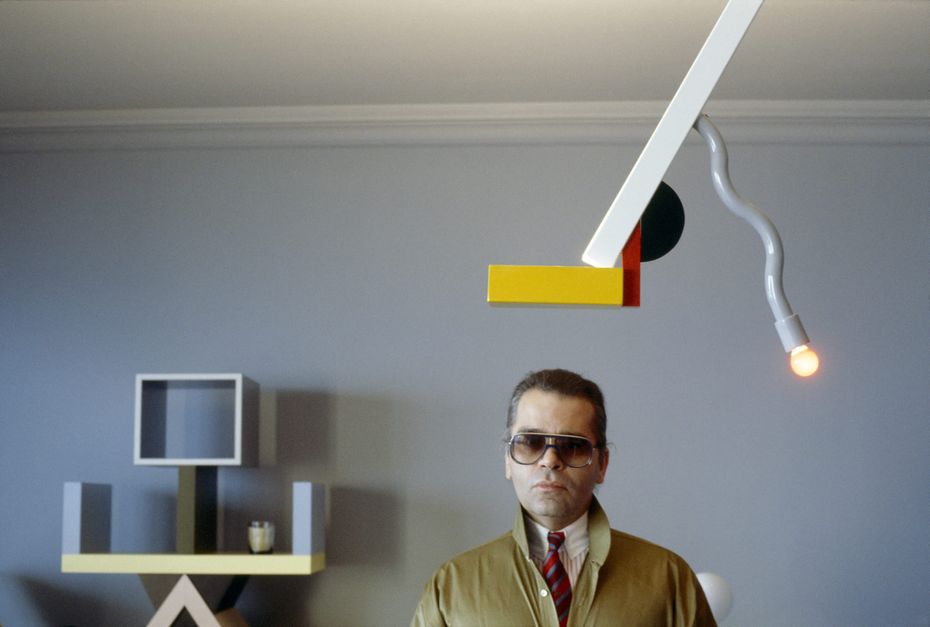 Ettore Sottsass, "Carlton" Sideboard. Ettore Sottsass, "Quisisana" Ceiling Lamp. Photo © Jacques Schumacher
Sharing wall space with Hockney were nudes by friend Helmut Newton, Lagerfeld a prolific collector of art — equally as prolific at getting rid: "I had Warhols and Basquiats and I gave them away because I thought they would not last" he recently confessed to The New York Times. It's probably this ability to quickly detach that has enabled his long run at the top of his game … homes and their interiors (as dream home specialists Verellenhc can attest) have been as easily discarded: apartments, an 18th-century chateau, Biarritz villa, Art Deco, Rococo — Lagerfeld's accommodation has chopped and changed as frequently as his seasonal collections.
Photographs last forever, and Jacques Schumacher was kind enough to open up his archives to We Heart — affording us an unrivalled insight into a moment in time, a moment of fashion and design history
And so, Memphis in Monaco wouldn't last forever. "He told us that he generally liked new things, such as Memphis, but at the same time also thought about selling them a few years later." Which he did. Sotheby's held an auction of Lagerfeld's Memphis collection in 1991. But photographs last forever, and Jacques Schumacher was kind enough to open up his archives to We Heart — affording us an unrivalled insight into a moment in time, a moment of fashion and design history. The German's pre-white hair; that ghetto blaster; a very uncomfortable looking bed; a bloody boxing ring, this is compelling viewing.
"The Memphis style is very amusing, I think we need more humour and lightness in our lives … especially today", Regina ruminates on the movement's enduring legacy, as she recalls quoting architect Emilio Ambasz in the 1983 story: "they have the amiable quality of pets" he declares of the Memphis pieces. "One can embrace them, play with them, cover them up at night to sleep. They are easy to have. You only need to wipe them with a damp cloth and they look fresh and lively again."
What an image, Karl Lagerfeld giving his sideboard a wipe down before putting it to bed for the night.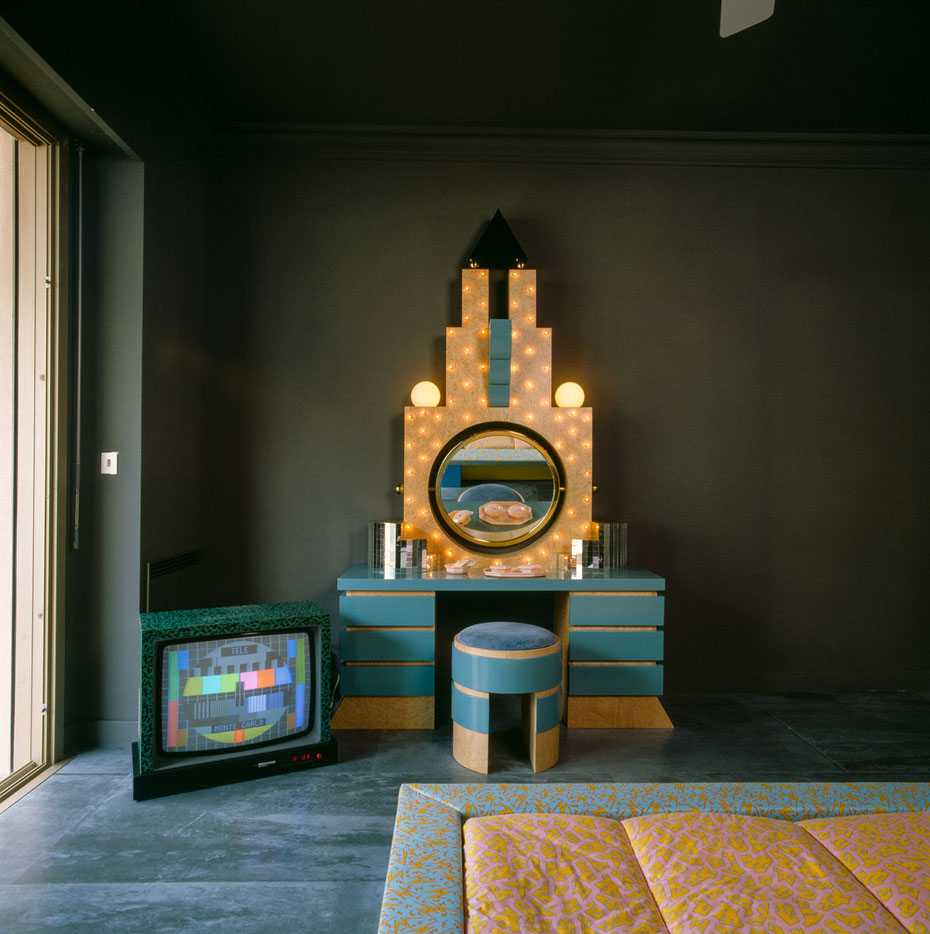 Michael Graves, "Important Plaza" Dressing Table. Studio Memphis Brionvega Television. Photo © Jacques Schumacher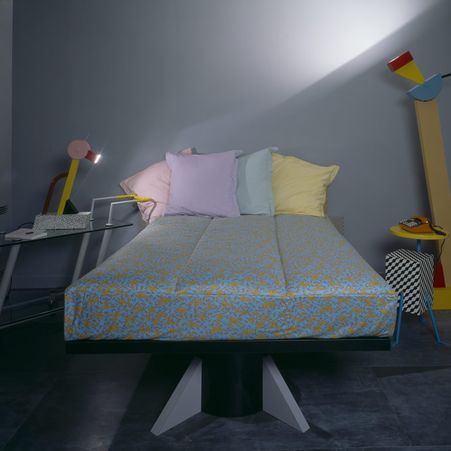 Javier Mariscal, "Hilton" Moveable Table.
Ettore Sottsass, "Tahiti" Lamp.
Michele De Lucchi, "Grand Lit" Bed.
Michele De Lucchi, "Kristall" Side Table.
Ettore Sottsass, "Cavalieri" Floor Lamp.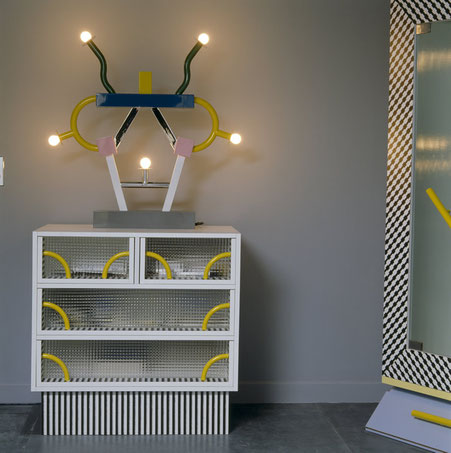 Michele De Lucchi, "Atlantic" Chest of Drawers.
Ettore Sottsass, "Ashoka" Lamp.
Photography © Jacques Schumacher
Michele De Lucchi, "Pacific" Wardrobe. Michele De Lucchi, "Oceanic" Table Lamp.
Peter Shire, "Brazil" Table. Photo © Jacques Schumacher